The Best Insurance Advice You're Not Taking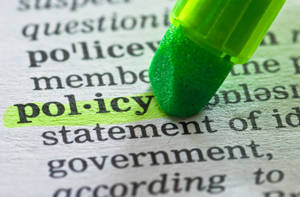 Do you know what your property insurance coverage excludes? Are you familiar with the insurance language and terminology used within your policy? Do you understand the full extent of the protection you are receiving for the premium you are paying? The best insurance advice is to educate yourself so that you can answer 'yes' to these three questions. It is all too often that property owners only understand what their policy did or did not cover when it is much too late.
When insuring your property, it is vital to know what you are paying for and to educate yourself on the policy's exclusions and restrictions. The following are common clauses and coverage options that may be included in your policy.
Learn the difference between Actual Cash Value (ACV) and Replacement Cost
Actual Cash Value is the value of the property immediately before loss; taking into account its 'used' condition, wear and tear, etc.; usually considered the "depreciated value" although "market value" and obsolescence may sometimes also be taken into account.
Replacement Cost is the cost to replace lost or damaged property new, with no deduction for depreciation or obsolescence. Replacement cost coverage requires that the property involved be insured adequately to qualify for the coverage. If not, only a proportion of the depreciation may be recovered. Regardless no depreciation may be recovered unless the property is actually replaced. For more information on replacement cost, see the Adjusting Today issue on "The Replacement Cost Claim: It's Just Like Any Other, or Is It?"
The difference between the two coverages is whether or not depreciation is considered. For example, your 2011 air conditioning unit was damaged by a covered peril, which when purchased cost you $3,000 new. Replacement cost coverage would cover the cost of a comparable new air conditioning unit at current prices. Whereas, ACV would replace it with one of similar market value considering the depreciation of the air conditioner over the years ($3,000 - $1,500 = $1,500 air conditioner). Typically ACV policies have a lower insurance premium and can save some money upfront for the business owner. However, it can be a risky decision in the long run if the business were to be faced with extensive damage to its property.
Business Ordinance or Law Coverage
Building codes change continuously and regulate processes from construction, materials used, electricity, plumbing, to fire safety and more. Rebuilding a structure so it conforms to the latest building codes can add substantial costs to reconstruction, sometimes up to 50% or more to recovery costs.
The standard insurance policy will cover the ACV or the Replacement Cost of the building, but will exclude any additional costs to bring that building back up to code. Standard policies also will not cover demolishing parts of the building that were considered undamaged even if they are required to be taken down due to the policy's contingencies. Business Ordinance or Law Coverage is available to save you from these unexpected out-of-pocket expenses.
For example, sprinkler and fire safety codes vary by state and are updated regularly to ensure the newest technology and disaster mitigation methods are in use. Local regulations determine if a building (depending on size, number of floors, construction materials, etc.) warrants a sprinkler system. If the building was constructed before these code changes were implemented, chances are it was not up to current code. Another example is that of meeting handicap accessibility standards. This includes adding ramps as an alternative to stairs, installing elevators, and updating restrooms. In order to reopen, the business must first upgrade the property to comply with the newest building codes.
Rebuilding to these updated codes can be a costly, unexpected expense for those who are uninformed of the code changes and coverage necessary to protect themselves and their business. Business Ordinance or Law Coverage includes: the loss of any undamaged portion of the building; demolition costs; and increased cost of construction coverage. Both demolition costs and the increased cost of construction coverage can be purchased separately. There are limits to both coverages such as the exclusion of repairing or rebuilding a structure due to complications from pollutants, fungus, or bacteria.
Business Income (Business Interruption) Coverage & Extra Expense Insurance
How will your business survive if it is temporarily unable to do business due to a disaster? Many policies cover loss or damage to items such as buildings, machinery, stock, office, supplies, etc. but exclude the loss of business income if your business cannot operate in the interim. By adding Business Income (BI) Coverage to your policy, you have a better chance of recovering and surviving the economic impact of the disaster on your business.
BI provides coverage for:
The loss of profit (the money that would have been earned if the disaster never occurred) during the period of restoration
Operating expenses if covered (rent, lease, payroll, benefits, insurance premiums, loan payments, taxes, utilities)
Extra Expense Insurance can be purchased in addition to BI for "covering the additional cost to maintain operations or get back in operation more quickly following property loss." Extra Expense provides the insured the ability to insure costs in excess of and not otherwise economically feasible, to continue business under as normal conditions as possible.
Understanding what your policy includes and excludes, as well as knowing the risks you are taking by not having certain coverages, can allow you to better prepare and plan for the unexpected. Insurance policies are more than another business expense; they are for the protection and sustainability of your livelihood. They should be examined thoroughly and understood completely at purchase and at each policy renewal or when changes occur within the business' conditions or environment.
Further Reading:
Adjusting Today "The Replacement Cost Claim: It's Just Like Any Other, or Is It?"
Adjusting Today "Ordinance or Law Coverage: Code for Recovery!"
Adjusting Today "Business Income Insurance: Having and Understanding This Coverage Can Be Essential to a Company's Survival"