"Ordinance or Law Coverage: Code for Recovery!" Podcast Episode Released from Property Insurance Roundtable®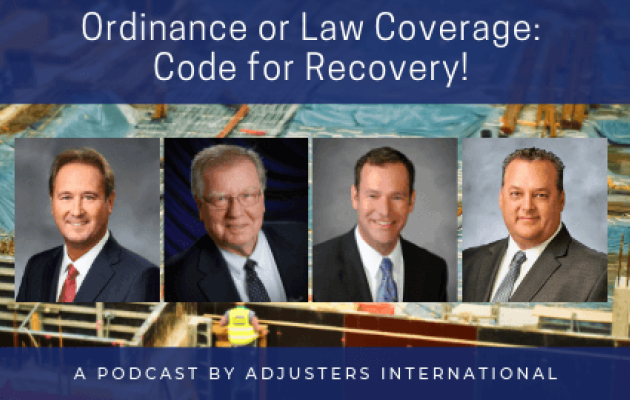 Jim, John, Todd, and Luis discuss ordinance or law coverage and how to insure for this potential exposure in Property Insurance Roundtable's latest podcast episode. After a disaster causes property damage or loss many policyholders discover that rebuilding the structure to conform to the latest building codes can add 50% or more to their recovery cost. Then comes the unpleasant surprise of discovering the ordinance or law exclusion that prevents a full recovery. With building codes, such as sprinkler systems and handicap accessibility, frequently changing, it is important to understand what your insurance excludes and how to acquire adequate coverage.
Quotables:
"The ordinance or law exclusion is found in commercial property and business interruption policies. And it expressly excludes loss or damages related to the construction use or repair of a property or requiring of a property to be demolished, and the cost of removing the debris from the demolition."
"A wonderful example of ordinance and law application involves people who live in coastal areas that have low-lying properties, and if their structure is damaged it will have to be elevated before it can be rebuilt."
"For example, a property could be required to have increased fire protection capabilities built in – for example, sprinkler systems or fire-resistant construction if you were in an urban area, upgraded electrical equipment, upgraded plumbing."
"If the insured has any property that is substantially older or in restrictive zones, they need to incorporate ordinance or law coverage into their property insurance program and to do so at adequate limits."
---
To listen to this episode in its entirety, click below:
Property Insurance Roundtable is free to stream or download and listen on-the-go as an educational resource provided by Adjusters International.
Corporations, business owners, policyholders, and agents/brokers alike will benefit from listening to this timely episode. Property Insurance Roundtable currently features numerous podcast episodes with topics ranging from Business Income Insurance, preparedness and recovery tips from disasters, and property insurance claims advice. To visit the podcast's homepage, click here.