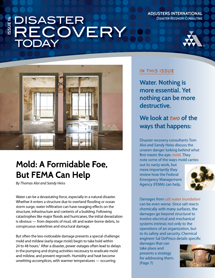 We are pleased to announce that the 16th edition of Disaster Recovery Today is now available! This latest edition contains two in-depth articles that explain the lesser-known and devastating ways fresh and salt water can affect structures impacted by a natural disaster. Following catastrophes like major floods and hurricanes, mold presents a special challenge. "Mold: A Formidable Foe, But FEMA Can Help" tackles the unseen dangers of mold, and reviews how the FEMA Public Assistance program may be able to help communities with their recovery efforts. Damages from salt water inundation can be even worse and "Saltwater Inundation: Beware of the Hidden Damage" explains the significant, long-term effects salt water flooding can have on virtually everything the flood waters reach.
In 2004, Disaster Recovery Today was introduced as a public service from Adjusters International. As we mark our 10th anniversary, readers continue to acknowledge the valuable role Disaster Recovery Today plays in helping them understand and stay current with FEMA Public Assistance Program's complex and ever-changing guidelines, rules and regulations.
We encourage our visitors to browse our library of Disaster Recovery Today editions and if you'd like, sign up for a free subscription and/or contact our editor. We look forward to hearing from you.