Be sure to understand storm terminology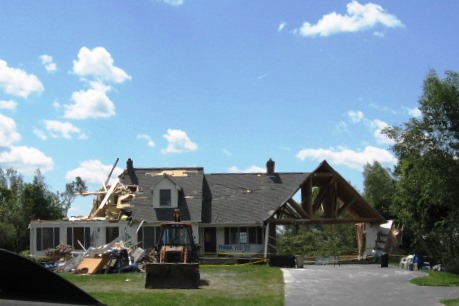 When meteorologists and local officials warn residents about a thunderstorm or tornado, they use words such as "watch" and "warning." As a resident, it is important to understand what these terms mean in order to assess your threat level to the situation and take appropriate action.
A storm "watch" indicates that weather conditions are favorable for a specific weather event to occur. For example, it does not mean that a tornado has been spotted; it instead serves a warning that one could develop.
When a storm "watch" is issued:

Prepare your property against potential damage (i.e. board up windows, bring outdoor furniture inside, etc.)
Be sure to have an emergency kit prepared and on-hand for both family and pets
Charge all electronics immediately in case of a power outage
A storm "warning," however, is more imminent. When you hear a "warning" issued, it is time to immediately take necessary precautions to stay safe as this indicates that a storm, or tornado, has been spotted or picked up by a Doppler radar.
Have resources ready
Download useful mobile applications to your cell phone and tablet devices:

Red Cross Apps

First Aid, Blood Donation, Pet First Aid, Emergency Alerts, Tornado, Hurricane, Earthquake, Wildfire, Flood, and fun and informative apps for the kids as well!

Sign up to receive text message alerts and warnings of severe weather impacting your local area:

Check with your local workplaces, schools, news stations and emergency official organizations.

Set up a communications plan with your family:

Be sure to account for power outage situations which can make contacting each other and officials more difficult.
Consider adding a landline telephone, if you are relying solely on cell phone service.
Consider purchasing an NOAA Weather Radio.
Debunk myths in advance
Many have heard information about what to do in a storm that may not be factual and, if implemented in a time of need, could result in the endangerment of you, your family, your property and your belongings. Be sure to know the facts in advance regarding what to do and where to go in a disaster setting.
Here are some places to research severe weather myths:
Severe weather can result in property damage to your residential and/or commercial buildings. If you need help with your insurance claim, contact us at 800.382.2468 or on our Contact Us page.