New Podcast Released! "NAPIA's Legislative Efforts – A Win For Policyholders & Public Adjusters Alike"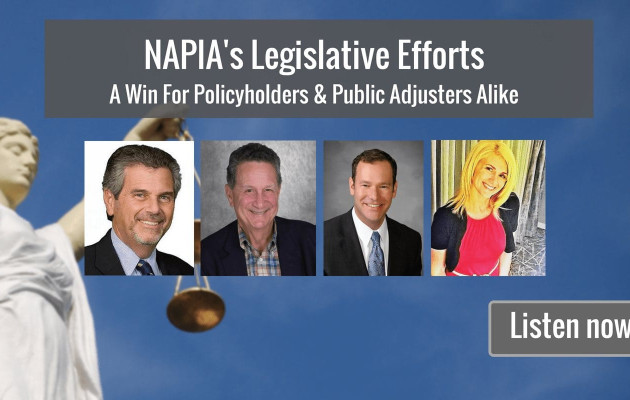 Brian, Randy, and Todd, our panel of industry experts discuss how NAPIA's legislative efforts are positively affecting policyholders and public adjusters in this latest podcast from AI. Founded in 1951, NAPIA advocates for public adjuster education and a higher standard of professional conduct and ethics. NAPIA members are committed to working in the best interest of their clients and to conducting business with integrity. For more than 66 years NAPIA members throughout the U.S. have joined together for the purpose of education, certification, marketing opportunities, legal and legislative representation, scholarship and research and the promotion of the public adjusting profession.
Property Insurance Roundtable is free to stream or download and listen on-the-go as an educational resource provided by Adjusters International.
Corporations, business owners, policyholders, and agents/brokers alike will benefit from listening to this timely episode. Property Insurance Roundtable currently features numerous podcast episodes with topics ranging from Business Income Insurance, preparedness and recovery tips from disasters, and property insurance claims advice. To visit the podcast's homepage, click here.
To listen to this episode in it's entirety, click below:
NAPIA's Legislative Efforts – A Win For Policyholders & Public Adjusters Alike