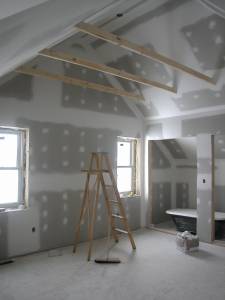 Remodeling a home or business can be a large project to undertake. Between hiring contractors, ordering materials, and designing the layout, chances are you will be extremely busy and have many decisions to make. Renovations and remodels can cost property owners a significant amount, thus proving the importance of having the correct insurance policies and adequate coverages in place before the work begins. Here is what to look for before you start your next big project:
Check what your insurance policy will cover
Depending on whether you hired a contractor to complete the remodel, or if you are going to complete all or some of the work yourself, your insurance needs will differ.
Hiring a Contractor
Vet all professionals in advance by contacting their references and researching their credentials. Reliable contractors are more likely to be properly insured.
Be sure your contract states that the contractor will abide by and implement all current building codes and obtain correct permits.
All professionals need insurance coverage – whether they are a contractor or a sub-contractor on your project. This includes general contractors, plumbers, electricians, and the like.
Check that your contractor's insurance policy contains:

General Liability – to cover for injury or property damage to a third party
Worker's Compensation – to cover for injury on the job-site

Also consider specific

Builder's Risk Insurance

on the project
Other
Check with your insurance broker to see:

If your policy covers personal property when it is not being stored in the home (i.e. garage, storage container, etc.).
What your policy deems as a 'vacant' or 'unoccupied' location – if you do not plan on living at your home or on premise during construction.
Review your policy limits
Your property insurance policy should cover the current costs to rebuild your property as well as replace all the contents in it. Simply insuring the market value of your home is not enough.
Be sure your policy limits (such as those set for bodily injury and property damage) are high enough to cover any damage or injury to third parties incurred during the construction phases of a renovation or remodeling project.

Note: Those who have been injured on-the-job site or have sustained damage to their property have the option to seek recovery from both the contractor and the property owner. Be sure you not only have coverage, but enough of it.
Increase coverage to match the increase in your property's value
Do not fear that supplying remodeling cost information to your insurance carrier will increase premiums, in fact, there are many renovations that do just the opposite; for instance installing security devices such as alarms and safety locks, as well as fixing old, weathered, or hazardous materials such as roofs, electrical systems, or plumbing.
You policy must reflect changes to your home's value and structure. Your coverage limits should include the additional investment you are making in your property. Failure to comply could result in insurance recovery limitations.

If your renovation changed the way in which your property was used, for example, you renovated a two-family home to become a rental/income property, you must change your insurance policy to mitigate your risks and acknowledge these differences.
Additional coverages may be needed, talk to you insurance broker to add or take away coverages that are needed, or no longer needed.
---
Check out our podcast on Builder's Risk Insurance:
Visit our podcast section to view all episodes of Property Insurance Roundtable.

---
For additional reading on this topic, visit our Adjusting Today articles: