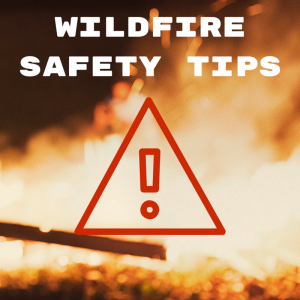 While many people think of dry, warm regions like California and other areas along the west coast when they think of wildfires, these destructive, powerful forces aren't limited to that particular region or climate.
Wildfires are unplanned, damaging fires that spread and grow quickly, with the ability to change direction unexpectedly. Although many wildfires start from lightning strikes, most wildfires are caused by human activity, such as the spark from machinery or a discarded cigarette butt. Heat waves, drought and changing climate and weather patterns increase the risk of wildfires.
Preparedness Tips – What to Do Before
There are several ways you can prepare yourself to deal with the effects of a wildfire before it strikes:
Research mobile apps and text alerts that are available in your region to notify you in the event that a wildfire should occur, and download or sign up for their services.
Prepare your home, which includes:

Clean your roof and gutters of leaves and other debris that could be a fire hazard
Clean your yard of debris, such as fallen tree limbs, leaves, dead foliage, and other potential fire hazards
Have a water supply ready by filling garbage cans, tubs and other large containers with water

Have an emergency kit ready and on-hand in your home and your car in case of an evacuation.
Create a communications plan with your family, friends and colleagues. Utilize social media features such as Facebook's "safety check" to let loved ones know you are safe, and use text messages and emails if you are unable to make a telephone call.
Prepare and practice fire safety and escape plans that each member of your family is familiar with.
If you are aware a wildfire may be coming, make sure your car is fueled and ready to depart should evacuation become necessary.
Prepare and continually update an inventory list of your possessions, which can help prove your loss to your insurance company in the event that your property is damaged.
During a Wildfire
Keep your TV and/or radio turned on to be alerted with weather updates and emergency instructions.
Heed all warnings from officials, and evacuate immediately if told to do so. Having an evacuation plan already in place can maximize your safety at this critical time.
Protect your property:

Turn off any natural gas, propane tanks or fuel oil at the source.
Close and lock all windows, doors and vents.
Post-Wildfire – What to Do After a Wildfire
Only return to the area after officials have declared it safe to do so.
If there are damaged areas on your property, use caution entering them as they could still be hazardous and pose a threat for fire.
If possible, photograph and video tape all damages to help prove your claim to your insurance provider.
Your actions as a property owner before, during and immediately following the event will have a significant effect on your property damage claim post-disaster. By taking the extra steps to prepare your property beforehand, you can maximize your safety while also limiting the damages incurred by wildfires.
Steve Severaid, Principal at The Greenspan Co./Adjusters International gives advice to homeowners suffering from a wildfire:
---
---
For more information about wildfire and other natural disaster preparedness and recovery: