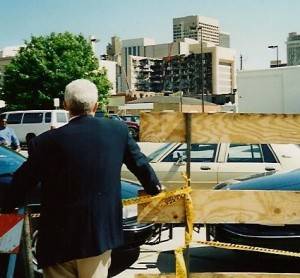 The tragic bombing of the Alfred P. Murrah Building in Oklahoma City on April 19, 1995 was another instance in which, following a demonstration of humankind's darkest side, men and women came together to do the extraordinary.
The massive explosion from a fertilizer bomb resulted in 167 deaths and numerous injuries. Damages from the blast totaled some $652 million. Due to the magnitude of the disaster, the Governor's Task Force on Damage Assessment retained the services of Adjusters International to prepare a preliminary damage assessment for more than 320 buildings, as well as the financial losses sustained by individuals, businesses and governments. John Marini, COO and VP of Adjusters International states, "This monumental task was completed within a remarkably short two-week period — providing a prompt, essential first step in initiating closure and recovery from this dreadful occurrence."
You have lost too much, but you have not lost everything. And you have certainly not lost America, for we will stand with you for as many tomorrows as it takes.
Bill Clinton
Former U.S. President