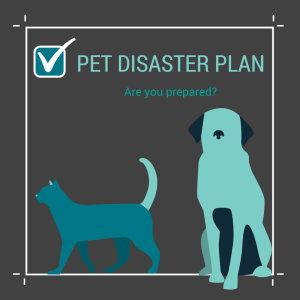 When a disaster strikes, it is beneficial to have your family prepared. Since animals are often considered to be 'part of the family,' there should be a plan in place to protect your pet in the chance a catastrophe should arise. The Federal Emergency Management Agency (FEMA) recommends having "an emergency response plan and readily accessible kits with provisions for family members, household pet(s), and service animal(s)." These recommendations were as a result of events such as Hurricanes Katrina and Sandy, and the terrorist attacks of September 11, 2011. Having a disaster preparedness plan in place can mean the difference between the life and death of your pet. It can be as simple as having a checklist ready in the case of a fire or flood, to having an evacuation route and emergency bag for both you and your pets in preparation for a large-scale storm. Emergencies vary in severity, such as the power going out during a storm, to road closures during a hurricane; it is important to be ready for catastrophes such as these every day. To protect your pet, be sure to have the following items on-hand:
Collar
Crate for transportation labeled with pet name, address and owner's phone number
Dish/bowl for eating and drinking
Extra supply of medications
Instructions on how to administer medications
Leash
Name tag
Plastic bags for waste clean up
Two weeks' supply of food and water
Veterinarian records (medical and vaccinations)
"First and foremost, whatever you do – stay safe. If you leave – do not leave your pets behind. Animals left outside during storms can be injured by debris or exposure, and worse – leaving an animal tied up outside during a disaster is a guaranteed death sentence. If you cannot take your pet with you, make arrangements to get them out of the danger area and with a friend or family member, or into boarding where they will be safe. Make sure if they have all of their belongings with them. Most Red Cross shelters do not allow pets; therefore it is imperative that you have a place for them to go."
Microchipping your pet beforehand is a good first step in locating your pet in the event that they are lost. A microchip looks like a small piece of rice that contains identification and contact information that is inserted under the skin. If your pet becomes displaced, is lost or ends up in a shelter, or veterinary office, a scanner can be used to retrieve your information and bring them back home. The 2011-2012 Hurricane seasons were exceptionally difficult on the East Coast; Hurricane Sandy left hundreds of people and animals displaced. Many families were able to reunite with their pets as a result of microchips, some were not so lucky. There are still some animals waiting in shelters for their owners.
Keep in mind that pets will be as stressed as we are during an emergency or disaster. Most of us have seen how our animals react to thunder and lightning, but in the event of a tornado or hurricane, it can be much more extreme. They can become disoriented and agitated; some otherwise gentle souls can become aggressive. It is for this reason that there are rescue organizations that are trained to assist you should your animal become difficult to handle or move. The American Red Cross and FEMA have teams specifically trained in Animal Emergency Management should the need arise. Your local police agency, local rescue or humane society, animal welfare organization, county or state emergency response teams are also available to help.