Public Adjusters for Homeowners Earthquake Damage
An earth-shaking occurrence does not have to be earth-shattering. Our public adjusters work only for you in dealing with your insurance company and assessing your full property damage as we manage and file a claim to get you the optimum amount for your family.
An earthquake can destroy or compromise the safety of your home. Our public adjusters provide the experience and guidance you need to make an educated decision while filing a claim on your path to rebuild.
Earthquake damage to your property can be immediately apparent or hidden. For instance, a seismic shift could crack and unsettle the structural integrity of your property without you even knowing about it. This could make your family's home vulnerable to future damage and collapse, making your home unsafe.
Our team of professional adjusters has unmatched experience in earthquake damage and risk assessment for evaluating your coverage for a future catastrophe. We work for you, the policyholder, to make sure all property damage is evaluated and documented. We negotiate a maximum claim recovery so you can have the means to provide a safe home for your family.
What To Focus On After Earthquake Damage
Make sure you fully understand the meaning of each of the following before you move forward. Feel free to reach out to us for a no-cost discussion about your claim.
Why is a claim strategy so important?

How much do I really need to know?

How can I afford such a large deductible?

How important is having my own engineer?

How do I deal with hidden damage?

How can I minimize the emotional toll on my family?

Is there anyone on my side?

Big deductibles demand that your claim be properly evaluated. How can you afford to rebuild your house with such a large deductible? Understanding claim strategies and value engineering are important.

Successful evaluation of damages hinges upon a well-coordinated effort between engineers and construction consultants. Do you have the right experts lined up? Should you only rely on the insurance company's cadre of experts?

Are you familiar with how insurance companies have handled past earthquakes? How does it affect you?

Ensuing fire or water damage from an earthquake can be covered depending upon the policy.

What is concurrent causation? Why is it important in an earthquake claim?

How do you make certain that hidden damages are addressed?

How does a large-scale disaster affect recovery? Replacement/reconstruction prices?

How does a large-scale earthquake affect your additional living expense claim?
Property Damage Losses Homeowners Claims Recovery Process
Property Damage
Time Element
Life & Safety Issues
Mitigation of Damages
Establish A Preliminary Recovery Plan
Evaluation of Coverages
Valuation Of Damages, Claim Preparation, and Documentation
Negotiations & Settlement
Restoration Of Property & Operations
How Our Public Adjusters Help You
Evaluate

Evaluating your insurance policy to establish the best possible strategy for presenting your claim to the insurer.

Strategy

Valuing, documenting, and substantiating every detail.

Communication

Keeping you informed every step of the way.

Negotiation

Negotiating on your behalf with your insurance company.

Settlement

Ultimately settling the claim for the maximum amount and with less hassle for you.
Homeowners Our Public Adjusters Have Helped
Client References & Testimonials

Client References

108 Owners Corporation Manhasset Condo

11805 Mayfield Association

13030 Moorpark Homeowners Association

1388, LLC - Binghamton, NY

151 Highland Avenue (Salamanca, LLC) - Salamanca, NY

1618 14th Street, NW, LLC

1745 Wazee - Denver, CO

17th Street Revocable Trust

1860 Larimer St. - Denver, CO

18749C N. Frederick Corporation

1st Choice Pallets

1st Missionary Baptist Church - Inkster, MI

2108 Bolton Street

218 East Main Street Partnership

245 Granby, LLC

36-40 North Main Street Corp. - Waterbury, CT

380 York Road Associates

388028 British Columbia Ltd., Inc.

3rd Millenium Inc

4455 Hazeltine Homeowners Association

Testimonials

Certainly the tragedy of the World Trade Center explosion will remain etched in our memories forever. We can, however, take pride in the united response of hundreds of people which enabled the complex to be reopened in record time and reconstructed on an expedited schedule. At the same time, as you well know, we were involved in a long, sometimes agonizing process of pursuing settlement activities with insurers. Without your help, and the help of many others the settlement wouldn't have been concluded as successfully as it was. On behalf of The Port Authority of New York & New Jersey, I would like to thank you for the expert advice you provided to me and my staff in our effort to bring the World Trade Center explosion insurance claim to closure. Your expertise and insight in this long and arduous negotiation were invaluable.

Bruce D. Bohlen

Treasurer - The Port Authority of NY & NJ, New York, NY

Time and again you had the creative solution, the tough negotiating point, or the quick response necessary to keep our insurance claim on track with the insurance adjusters.

Richard Q. Russeth

Vice President & Associate General Counsel - The Pillsbury Company, Minneapolis, MN

Case Studies

For decades, L'Auberge Chez François has been one of the leading restaurants in the metro Washington, D.C., area. Known for its exceptional French cuisine and impressive service, the restaurant is a longtime favorite of Washingtonians celebrating anniversaries, birthdays or other special occasions.

A magnitude 6.8 earthquake, called Nisqually in seismic circles, rocked Seattle, Washington, in 2001 and severely damaged the Starbucks corporate headquarters building.

Super Typhoon Paka, as the storm came to be called, was a 12-hour session of destruction for the island of Guam. Stirring up winds in excess of 200 miles per hour, the tropical cyclone tossed buildings, planes and ships across the island like discarded toys. Among these was the headquarters of Continental Micronesia, a subsidiary of Continental Airlines. The main offices, the marketing buildings and the planes were damaged by the powerful typhoon.
As this issue of Adjusting Today® was being prepared, the earthquake and resulting tsunami of March 2011 struck Japan. That concurrence put an exclamation point on what already was the theme of this edition ...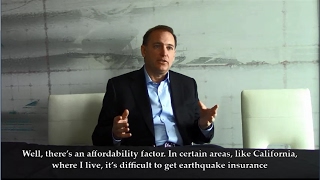 Steve Severaid, Principal at The Greenspan Co./Adjusters International answers the question, "Who needs earthquake insurance the most?"
Our expert panelists discuss the ever-changing landscape of insurance coverages in the face of disasters, natural and man-made, both common and unusual.
Contact Us
If you're suffering from a homeowner property claim, we can help!
( * ) indicates required field