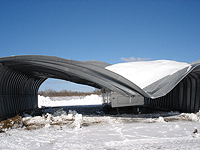 The Valentine's Day Blizzard 2007 that buried much of the Northeast took its toll on buildings around New York State, and numerous property owners turned to Adjusters International to assist with their property damage claims.
A large resort property owner had collapses at four property sites as a result of the February 14 blizzard, including a commercial storage facility and an airport facility.
In Central New York a cheese producer and supplier that feeds a network across the country with mozzarella, feta and parmesan cheeses experienced a roof collapse, and AI will assist them with their property damage and business interruption claim; a convenience store chain retained AI after pipes froze at their corporate headquarters; and a 10,000-square-foot medical office complex hired AI for assistance after its building collapse.