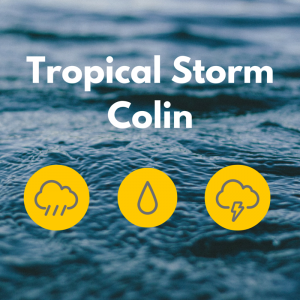 Tropical Storm Colin is set to affect the state of Florida with heavy rains, high winds, and coastal flooding as it moves from the Gulf of Mexico today and tomorrow. Residents should be aware of the potential for a serious storm to develop and begin preparing immediately.
Tropical storm watches and warnings have been issued in various areas of Florida, Georgia, and South Carolina.
A 'watch' indicates that weather conditions and patterns are indicative of a storm occurring. This tells residents to be on guard and stay connected with their local news and officials as to what the weather may become. This is a good time to begin preparing for the event that a storm will occur. Things to begin preparing could include: emergency kits, charging of electronics, valuable papers (IDs, birth certificates, etc.), food, and water, evacuation routes, methods, and so on.
A 'warning' is a more immediate threat that means residents should take action. This means that the imminent weather is already occurring, has been spotted, or is about to happen at any second.
As this storm develops, we will update this web news story with the latest materials.
Additional Resources: