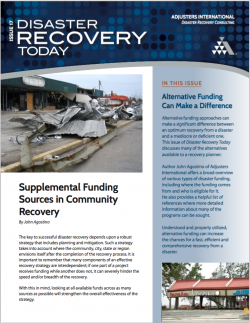 Our 17th edition of Disaster Recovery Today, "Supplemental Funding Sources in Community Recovery" is now available both online and in print! Author John Agostino, Director of Grantee Services at Adjusters International, discusses the many funding opportunities available post-disaster including:
As John states, understanding the types of programs that are available to state, tribal, local governments, private nonprofit organizations, and others can help immensely in the disaster recovery process when implemented correctly.
Disaster Recovery Today is a publication provided free of charge by Adjusters International. It contains knowledge about FEMA as obtained by our experts through years of experience – written from a position of advocacy for the applicant, in a non-FEMA perspective. To view our library of publications, click here.