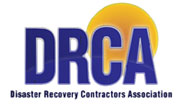 The Disaster Recovery Contractors Association (DRCA) has announced the appointment of John W. Marini, Chief Operating Officer of Adjusters International, to DRCA's Board of Directors. At the same time, Adjusters International was welcomed as a member of DRCA.
A non-profit trade association comprised of private sector companies, DRCA describes itself as "helping to fulfill the Nation's mission of preparing for, responding to, recovering from and mitigating against disasters and emergencies by working side-by-side with Federal, State and local governments.
DRCA brings together leaders in the private and public sector through industry forums and activities that help advance leadership, and best practices that advance the emergency management system and improve America's ability to respond to and recover from natural and man-made disasters."