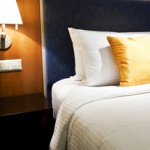 We are pleased to share a new edition of Insights for Your Industry™: "Bed Bug Infestation — A Concern for Hospitality Industry." Targeted to hoteliers, this issue addresses the timely topic of bed bug infestation. Provided are options for insurance coverage, as well as preventative steps that can be taken.
While standard commercial property insurance does not provide coverage for insect infestation, today several insurance companies are offering the coverage for commercial enterprises such as the hospitality industry. These insurance programs typically include coverage as well as a bed bug management/prevention component. Although insurance is important, the key to minimizing or preventing such infestations and maintaining a positive reputation for the hotel is a comprehensive risk management program similar to the one outlined within this article.
Offered in electronic format, our complete library of Insights for Your Industry™ is available for free download on our website.