T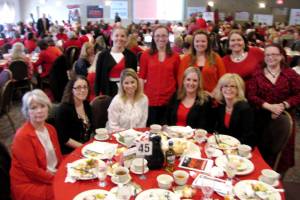 he ladies of Adjusters International recently represented the company at the "2016 Go Red for Women Luncheon" in Utica to raise funds for the American Heart Association and raise awareness about cardiovascular disease.
According to a report by the American Heart Association, heart disease is the number-one killer of women in America.
Eight members of the 2016 Go Red Survivor Class shared their stories of fighting heart disease to spread awareness and save lives. More than $100,000 was raised through this year's local American Heart Association Go Red Campaign.
Many women shared their "why," or the reason they plan to make healthy choices and take care of their hearts – for their mothers, their daughters, their families, and more. But the American Heart Association's tagline is a reason that everybody can relate to – "life is why."
For more information about heart disease and how you can join in the fight against it, visit the American Heart Association's website.