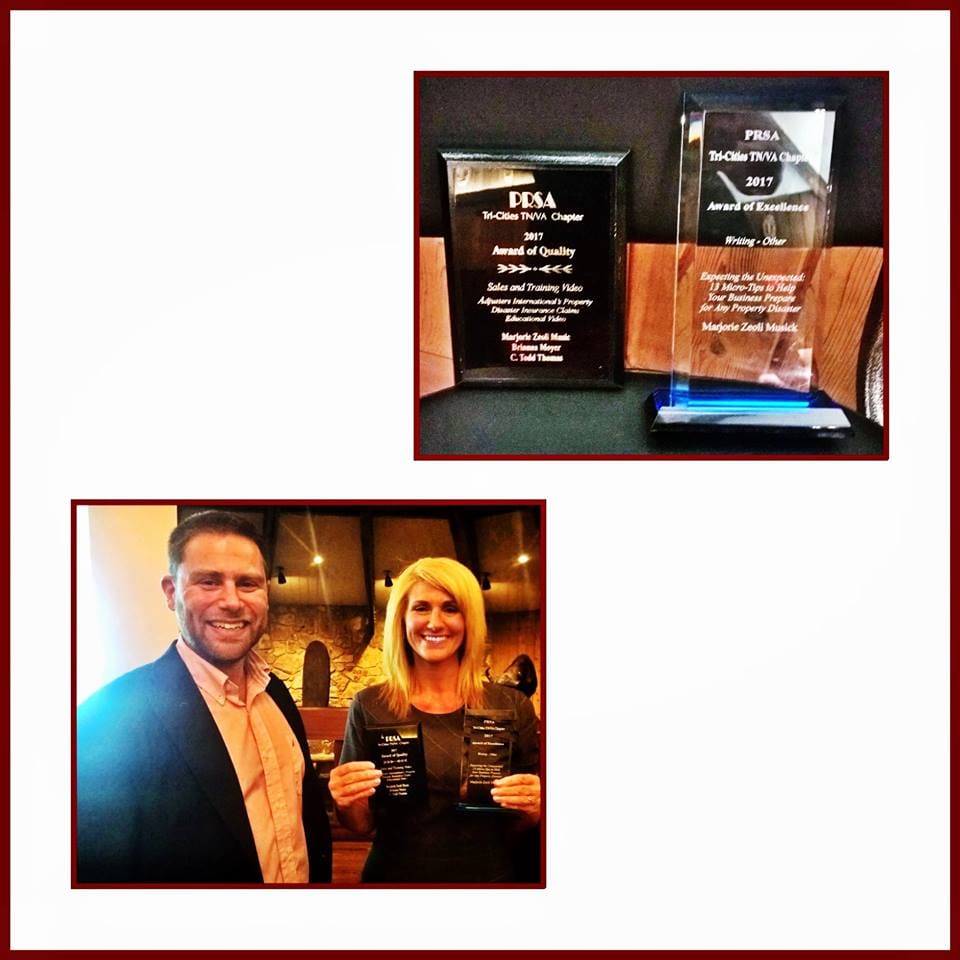 The marketing teams at Adjusters International and Adjusters International/Basloe, Levin & Cuccaro recently won two PRSA Chapter Awards for their exceptional writing skills and informative video series. The Tri-Cities Tennessee/Virginia Chapter of the Public Relations Society of America's Awards Program recognizes excellence in public relations. Social Media Specialist, Marjorie Zeoli Musick, Digital Marketing Manager, Brianna Moyer, and Executive Director of Consulting Services C. Todd Thomas were honored with the following awards:
An Award of Excellence for Writing for AI/BLC's blog titled, "Expecting the Unexpected: 13 Micro-Tips to Help Your Business Prepare for Any Property Disaster" which featured interviews from AI's Executive Chairman, Ron Cuccaro and President and CEO, John Marini. They offered insights into the different ways that business owners can prepare for the unexpected outcomes of property disasters. The judges commented that Musick's writing was clear and concise and that the use of Cuccaro and Marini's quotes was an excellent way to highlight their expertise and also educate business owners about a very complicated but vital topic.
An Award of Quality for Adjusters International's Property Disaster Insurance Claims Educational Video Series. The judges especially enjoyed Principal, Steve Severaid's "Challenges of Wildfire Claims" clip. The judges thought that these videos were very informative, well done and provided a great community service by educating property owners on complicated and vital topics that no one else was covering.
The marketing team is honored to receive such high accolades from an established organization. Their ability to work as a collaborative team in all aspects of writing, editing, and production phases of their projects has resulted in recognition from those esteemed in their industry.