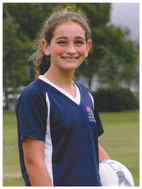 With the American Heart Association's Greatest Heart Run & Walk quickly approaching, Adjusters International's Team Isabel is in high gear with our fundraising efforts. Over the past 12 years Team Isabel has raised over $100,000 for this worthy event.
Everyone knows someone who has been affected by heart disease or stroke. Team Isabel was formed in honor of Isabel, the healthy, active 11-year old granddaughter of Adjusters International CEO Ronald Cuccaro and his wife Sheila. Isabel had life-saving heart surgery shortly after she was born. Her story is one of many success stories that the American Heart Association can tell to support their continuing research.
We hope that our contributions are able to go a long way in achieving our goal of wiping out heart disease for future generations. Pledges for Team Isabel will be collected up until the day of the event on March 5th.