5 Things to Do With That Extra Hour of Sleep - Daylight Savings Ends
Turn your clocks back and motivation up this Sunday!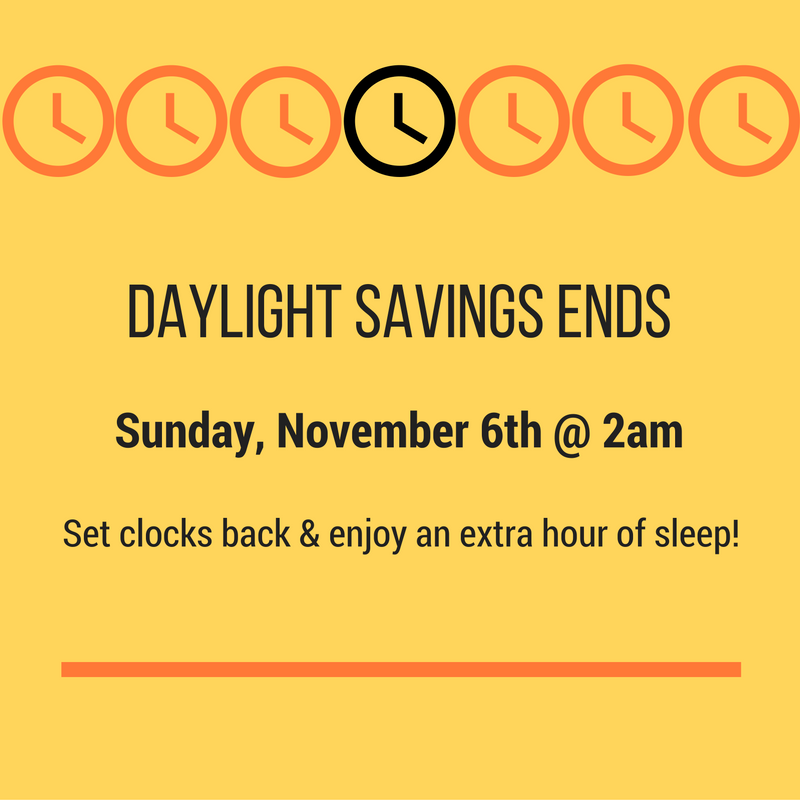 What could be better than getting an extra hour of sleep on Sunday? Fall is officially here reminding us to turn our clocks back an hour this Sunday, November 6th at 2am. This means more daylight in the morning, but nightfall comes sooner than it used to.
Use your extra hour on Sunday to complete some important emergency preparedness tasks to keep your family, home, business, and property safe:
1.) Test your smoke alarms and CO2 detectors
Replace all batteries
Replace the system if the batteries are not the issue
2.) Run through your disaster plan
3.) Change your passwords
Data breaches and cyber-attacks are on the rise, increasing the importance of protecting your security
Change passwords on banking websites, social media profiles, e-mail, and others that you use, especially those with personal information
Clean out gutters
With winter on the way, leaves, sticks and other debris could cause clogged gutters which can lead to water damage problems later on
4.) Clean out gutters
With winter on the way, leaves, sticks and other debris could cause clogged gutters which can lead to water damage problems later on
5.) Review your insurance policy
Make sure any large purchases are included in and accounted for on your property's policy
---
For additional reading, visit: